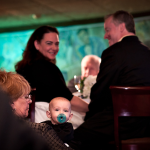 Jennifer S.
"Ernst was a bride's dream. He was superb! Friendly, accommodating, trustworthy and so professional. I think when we first spoke I told you that the work of yours I had seen is stunning. I can now vouch that the stunning part starts with the photographer from within and is simply projected through the lens. As one of my friends said "we're planning on getting married again just so we can have Ernst capture it". Jennifer Shadur
_____________________________
The Art Album
There's really no better way to relive and share your wedding story than with a storytelling album.  When looking at an album for the first time, many will hold the album in their laps, run their hands over the luxurious cover and slowly look at each photo in the album.  An album simply engages your senses unlike anything else.  
Christina and Rob's album (below) features the beautiful Secret Garden for the cover and the rich brown Datebook leather for the spine.

Jennifer and Levi's album (below) features the gorgeous Lust leather for the cover.

Molly and Trent's album (below) features the beautiful and appropriately named Love Junky suede.

Kim and Greg's album (below) features the exquisite Sagebrush Lizard leather for the spine and back combined with a vibrant metal cover featuring their first dance.

Your unique, storytelling wedding album will enable you to re-live one of the most important days of your lives and will serve as a daily reminder of who you love, and why you love them.  
Importantly, it will also provide you with the opportunity to share your story and the family and friends who celebrated the day with you with others and, perhaps one day, with your children and grandchildren. 
 ___________________________________________________
 Check Availability For Your Wedding Day
309.287.0848    Email